Christina A. Papavasiliou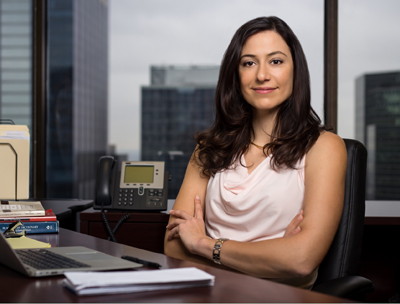 "My goal each day is to eliminate a legal problem, or turn it into an opportunity! I am committed to your success." Christina
As a former Assistant State's Attorney for six years, Christina Papavasiliou is experienced in every stage of trial advocacy.  Currently practicing civil, criminal and commercial litigation in both Illinois and federal courts, she feels comfortable litigating almost every type of case. With over 11 years of experience in the practice of law, she provides competent, individualized representation in cases large and small. She also serves as a Cook County Arbitrator.
Christina was previously Senior Assistant State's Attorney in the Civil Division of the Champaign County State's Attorney's Office.  Before that, she worked at Webber & Thies, PC.  Christina is a member of the several bar associations serving the Chicago area, including the Chicago Bar Association, the Chicago Women's Bar Association and the Hellenic Bar Association. She also serves as an arbitrator for the Circuit Court of Cook County's Mandatory Arbitration Program.
Bar Associations
Chicago Bar Association
Chicago Women's Bar Association
Illinois State Bar Association
American Bar Association
Hellenic Bar Association
Illinois
U.S. District Court for the Northern District of Illinois
U.S. District Court for the Central District of Illinois
U.S. Supreme Court
Education
St. John's College, B.A., 1998
University of Illinois College of Law, J.D., 2004
Legal Teams
Christina has created and worked on legal teams for clients with diverse or complex legal issues.
Previous Legal Team Partners
Elliot Zinger & Associates
Fish Law Group, LLC
Iridian Law (Ish Orkar, Esq.)The Law Office of Jonathon Lubin
The Law Office of Kate Curier
The SL Debarros Law Firm, LLC
The Law Offices of Tyler Spillman
The Law Office of Gary Noah Savine
Cramer Law Chicago
Follow Christina on LinkedIn
Expertise
Litigation
Legal negotiation
Civil Rights
Employment law
Criminal law
Business Litigation
Personal Injury Litigation
For clients with diverse or complex legal issues, we can build a trial team to fully and thoroughly address your legal needs.
Christina was able to explain all of the strengths and weaknesses of my case.  She assured me at all times that if we worked together, planned and did our best, we had a fighting chance.  It gave me the confidence I needed to stay involved in the fight, and we won!
D.D. Chicago, IL
Christina resolved two legal issues for me quickly, and she was kind and professional from start to finish.
P. M. Riverwoods, IL
Before I hired Christina, I didn't know trial attorneys could be affordable!
J. W. Gurnee, IL